Tree Repair in Boise – A Tree Company – We Can Save Your Trees – Serving The Entire Treasure Valley, Including Boise, Nampa, Meridian, Eagle
Cabling and Brace rods are supplemental structural supports to reduce the risk of failure of weakly attached limbs or multiple leaders.
Cabling consists of high strength steel cable that is attached by lag bolts in the upper crown of a tree. The cables will limit the movement of supported branches and reduce the chance of failure during storms.
Braces are threaded steel rods that are installed through unions of week branches and multiple leaders to provide more support against twisting or splitting forces that can occur during a storm.
There is no guarantee that a week branch union won't split, but cabling and bracing can help reduce the risk of losing a valuable tree. Click on the button to learn more:
---
Here are two pictures of a split Ash tree repaired by cabling and bracing. The tree was recommended for removal by four other tree companies in Boise but saved by pruning, cabling and bracing for a fraction of the cost of removal. The tree is still healthy and standing today.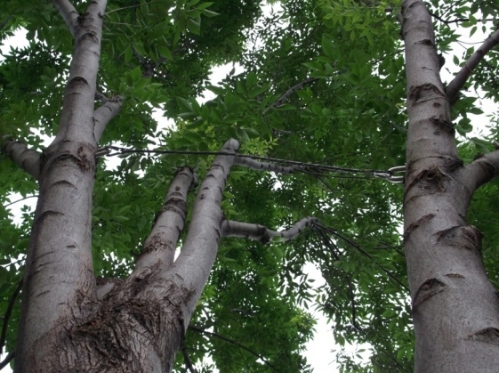 Emergency Services
A Tree Company's tree service experts are ready to help in the event of an emergency tree care situation. Storms may cause limbs or entire trees to fall, often landing on homes, cars or other structures. A Tree Company offers emergency tree removal service. We have the equipment available to handle up-rooted trees, leaning trees, fallen trees from homes and other structures while minimizing further risk to your property.
Firewood Delivery and Pick Up
Our firewood is mostly mixed hardwood or pine soft wood mix. Firewood is cut around 16". We also have shorter lengths available for smaller wood stoves at an additional charge. Firewood can be picked up at our yard or delivered for $50.00. We also can stack firewood at your location for an additional charge. Our firewood is stacked and measured before loading on our trucks. We guarantee you will receive a full cord of wood when delivered.